But first things first...did you see the cool Blog for Education button on the left over there? Ain't it grand? Don't you want it for yourself? Take it, take it!! And that's not the only one the awesome
CableGirl
made. There are two for you to choose from: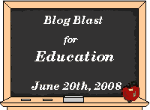 And thank you,
Lunanik
, for pimpin' it!
Hey, speaking of Lunanik, let's get to Terrible Tuesday, shall we?
Envy and I have hung out for a very, very long time. I've wanted people's fame, I've wanted people's looks, I've wanted people's talent, and yes, every now and again, I've wanted people's money.
Now, just to be clear, envy and malice are just plain old ugly together. And, yep, I've been there, too. However, yet again, I choose to look at the bright side of envy.
I have used envy to make positive changes to my life. When I can look at what someone else has or does, and think - still stuck in
A Chorus Line
here - "I Can Do That," envy can be a great motivator.
I used envy to get myself back into college. I used envy to take on bigger projects at work. Envy got me my promotion. And no one got hurt in the process.
Have I shared this favorite quote here yet: "Depression is anger without enthusiasm." (Anon.) The right kind of anger with the right kind of enthusiasm can be one of the most effective motivators. Envy can be the emotion behind the anger to lead to that enthusiasm that inspires someone to find a better path.
Envy at people's clothing has inspired me to re-think what I already have in my closet, and how I might put certain things together differently to feel like a new look. Envy at people's looks inspire me to make changes to my daily routine to try and look and feel better about myself.
Interestingly enough, envy at people's money has only made me more grateful for what I have. Because I've read
Rich Dad, Poor Dad
, and other books like it to see how they got what they got. And I see how much time and effort it takes, and what you sacrifice in order to get it. And then I decide, "yeah. Not for me, thanks. I like my life just fine."
Envy at people's marriages helped me find my way out of mine - one that didn't resemble that at all. And it has helped me from making like mistakes!
Envy at people's youth? That one's a little tougher. But while I may never be 25 again, I have these 2 amazing girls that have gone through stages I remember, and will always continue to do so. I get to remember, admire, and be a part of their own discoveries for as long as we all walk the face of this Earth. That's pretty cool!
Envy at people's maturity? Something to dream to achieve...
Envy is all in how you handle it. Like all emotions, it's not something to try and deny, but something to work through.
Wow, look at me being all positive!