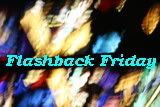 Lunanik
and
Kori
both wrote about road trip experiences, and I remembered one of my own.
It was not long after I got off the cruise ship and was leaving a pretty fancy-free lifestyle. I was 19, had no money worries (*sigh*), and I was still in love with my cruise ship romance, waiting for his contract to be up before he joined me in L.A.
A fellow cruise ship performer was coming to visit me from England. She was so much fun! Wow - I have no recollection of how long she stayed, and I've completely lost touch with her since. Anyway, Katie and I were going down to visit with my sister for the weekend.
She was a bit lonesome, and we had big plans to get her laid before her time with me was up. So we're driving down the 5, and there's a HOT-looking guy in a red convertible near us. I decide she must have him. We play a few driving games along the way, and are having a blast. At the time, she told me she thought he was liking me rather than her, but I thought, impossible. She's blonde, she's cute - why would he not be into her?
Finally, and thankfully before our exit, he held up a paper of some sort with the Hard Rock Cafe logo, and added "8 pm" to it. We said, sure!!
My sister thought we were a little crazy for agreeing to meet up with a guy in this manner, but hey, you only live once!
So we get down there, but of course, I'm not old enough to go to the bar. I tried to beg off at this point, but he wouldn't hear of it so we ended up going someplace else. He was a really nice guy...and really, really hot! And it ended up that he was attracted to me. We hung out for a while, and he tried to convince me to at least take his phone number in case things didn't work out with my cruise ship romance.
Is it too late to kick myself for not taking that number? Oh, well. It was the most fun I ever had on the 5 South.