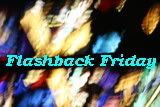 [In case the title didn't tip you off, bloody references below.]
Nancy
and I are going to see
A Chorus Line
tonight. So it reminds me of when I performed in
A Chorus Line
.
I think I was 12, playing the part of Connie Wong. Even though I'm Mexican-Irish. But, hey. I was thrilled to be in it. (It was a community theatre production in Santa Cruz.)
Well, one particular Sunday matinee, it was very, very hot.
We were just starting the number "At the Ballet." All of a sudden, I feel my nose start to bleed.
Now,
A Chorus Line
is a show where the full cast is on stage for most of the time. And, "At the Ballet" happens to be a fairly big production number. At the moment, though, I was still in the line, waiting for our cue. I try covering my nose with my hand, which of course, just means that there's blood running down my hand.
At this particular venue, there's not much of a backstage. And I'm on the side of the stage where the band is directly in the wings. As our cue comes, I manage to dance my way off into the wings. There is nothing around, except the black curtain covering the piano. Which became the world's biggest Kleenex for me.
It finally stopped, and just in time, too. The number was ending and I needed to get back on stage, and rejoin the line.
Bloody noses on hot days were pretty common for me as a kid. My ex got them, too, so the poor girls were given this lovely trait from both sides! They get them pretty regularly. Luckily, it doesn't freak any of us out, and we're not squeamish about it.
Riley just had another one a couple of nights ago. She just calmly stood there, while I handed her tissues until it was all said and done.
Too bad I wasn't doing
Sweeney Todd
...
BlogBlast for Education: June 20